Title: With Malice
Author: Eileen Cook
Format: Paperback (ARC)
Pages: 320
Rating 5/5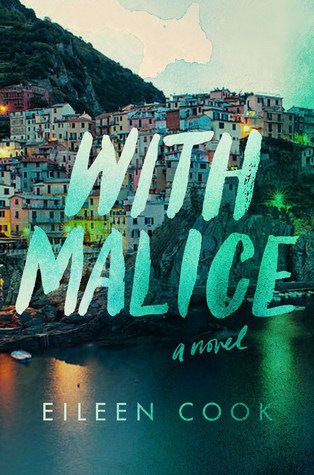 **I received a copy from the publisher in exchange for an honest review**
When Jill Charron wakes up in the hospital with no recollection of the past six weeks, her life is in ruins. The accident that put her in the hospital also killed her best friend, Simone. The worst part? Jill was the one driving and everyone seems to think that the accident wasn't really an accident. Soon, Jill finds herself facing reporters and the harsh people on the internet that all seem to have one thing in common. Everyone thinks that Jill killed Simone. If only Jill knew what really happened. Was Simone's death really an accident?
First thought after finishing With Malice? "Oh. My. Gosh."
Pulling you in from page one, With Malice shows not only the struggles of Jill and how she has to deal with foreign police, her own injuries, and a blog that's basically dedicated to trying to prove her guilty, but also the side of crime that I think many books leave out. About half of the book is dedicated to the reports given by the police, friends of Jill and Simone, random locals that witnesses the accident, and people they met along the way while in Italy. Giving these point of views really helps bring out how words and events can be twisted around. From people wanting the spotlight to honest misreading of the scenario, With Malice has it all.
Let's talk characters.
Victim or not, I didn't like Simone from the start. She seemed like the kind of person to trip someone in the hallway just so she could have a laugh or the kind of person to get someone else in trouble for something she did, because it would suit her better to play innocent all the time. Her character just sat wrong with me from cover to cover and I stick to that.
I felt bad for Jill, but I almost felt bad for feeling bad. Dealing with memory loss has to be awful, but when put in a situation where everyone's asking "What happened?!" it certainly has to be worse. Especially since everyone thinks she was the one to blame for the accident, most people probably thought she was pulling the memory loss card just so she doesn't have to tell her side. I think that's awful. But with the lingering "Was is really an accident?" question floating around, I didn't want to feel bad for her just in case she was to blame.
Nico. I didn't trust him. No good looking foreign smart guy has good motives. Not to mention he's obviously a flirt. And the very thought of committing murder-suicide for the likes of him (or any guy in general) should be unthinkable, but in this day and age, there's just no way to know for sure.
I picked up With Malice with the promise of a fast paced, electrifying story that I wouldn't be able to put down and I'm glad to say that I wasn't disappointed in the slightest. Cook knows exactly what the reader wants, mixing in mystery, violence, friendship, and romance in a way that's just right for the story. With Malice keeps you guessing from the very start, causing you to try and make connections with outlandish theories and assumptions that keep you hooked from start to finish and leave you wanting more.