Title: Dragonfly in Amber
Author: Diana Gabaldon
Series: Outlander
Book: 2
Format: Hardback
Pages: 745
Rating: 5/5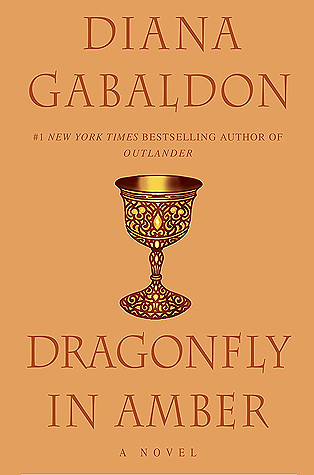 Goodreads excerpt:
For nearly twenty years Claire Randall has kept her secrets. But now she is returning with her grown daughter to Scotland's majestic mist-shrouded hills. Here Claire plans to reveal a truth as stunning as the events that gave it birth: about the mystery of an ancient circle of standing stones… about a love that transcends the boundaries of time… and about Jamie Fraser, a Scottish warrior whose gallantry once drew a young Claire from the security of her century to the dangers of his.
Now a legacy of blood and desire will test her beautiful copper-haired daughter, Brianna, as Claire's spellbinding journey of self-discovery continues in the intrigue-ridden Paris court of Charles Stuart… in a race to thwart a doomed Highlands uprising… and in a desperate fight to save both the child and the man she loves.
I truly don't know where to begin with this. Usually I start off my reviews with summarizing the book in my own words and then giving my views, but the volume of this book seems near impossible to sum up on my own. Despite the fact that there are over 700 pages to this story, I found that I read this fairly quickly. Going into this, I expected to be reading this at least two weeks, but within the second day of actually reading it, I was well over halfway through. Looking back, the story wasn't even all that interesting. Most of the story was Claire and Jamie going about their normal business with added flare ups of action here and there. Yet, even though I usually detest excess description (which this book is certainly not lacking), I found myself interested in the nitty gritty details that made up this great historical novel. Yes, believe it or not, the history is what ends up drawing you in. The raw material that Gabaldon brings is unlike any other historical fiction novel I've ever read. Not only does it give the harsh reality of hygiene and health as a whole, but also the politics and the economic setbacks that I hadn't expected.
Let's take a moment to look at time travel.
There is no definite way to write time travel. Until someone has gone back in time and actually been able to write out their experiences, which may never happen, then we will be able to understand it. Even then, going back in time may potentially change everything, causing you to never go back in time to begin with. Thus the paradox starts and everyone reading this gets a headache, because this could literally go in a loop forever. My thoughts on time travel. In my mind, time (construct of human intelligence or not) forms to changes. Meaning, what we live in now is how it always has and always will be, because even if people go back in time, that means that they must have done it already. There is no one time and it's all happening at the same time, so in reality, no one can change time, because time is as time does. With that being said, I love how time travel is incorporated. I admire any author that even dares to touch time travel simply because it's so complicated and uncertain. Claire keeps thinking time and time again that her movements will effect how her life was back in the 1940s, but time is funny and she had already made all those moves before she was even born. It's so completely fascinating that I really don't know if I can get my views on this across without completely confusing people. Now, with my little rant out of the way, I agree 100% with Gabaldon's view of time travel. Love it.
As for everything else, I just love Claire and Jamie's relationship, but dangit they make me so mad sometimes. They're so hot and cold that it drives me insane, but they're so intense that you can't help but love every second of it. I really feel for Claire in this book, she deserves her happy life with Jamie and reality keeps throwing obstacles in the way. Overall, this was a incredible second installment to the Outlander series and I'm so excited to see where it goes in books to come.